Bedni Bugiyal
It was middle of June 2011 and I was going to Roopkund, one of India's top three treks. Having reached Bedni Bugiyal at 3,354m, I had planned to climb up to Bhagwabasa the next day. It was going to be a long trekking day, at least a 10hrs trek and all ascending. Now before I continue with the trek, it would be most injustice if I don't give a small description of Bedni Bugiyal. The name Bedni came from the work Veda (ancient scripture of Hinduism) and Bugial means grass land. It was a very beautiful campsite; lash green grassland, snowy tops of mountain Trishul in one side, one small pond in the middle and two temples. On a sunny day you could see flock of sheep all around and it creates a very charismatic appearance.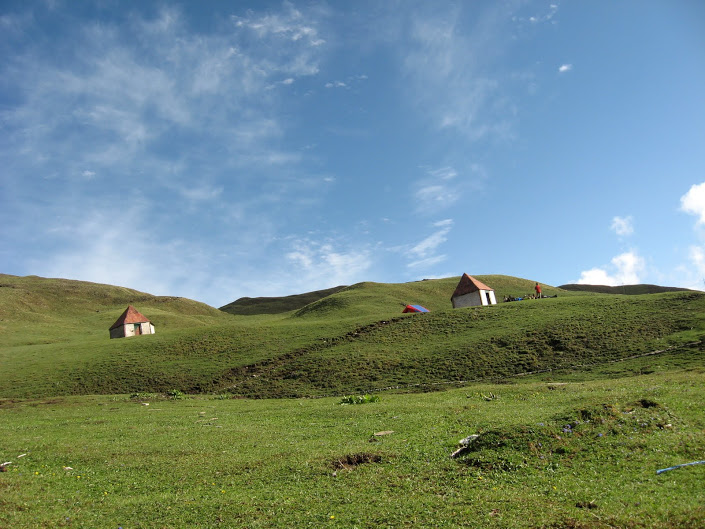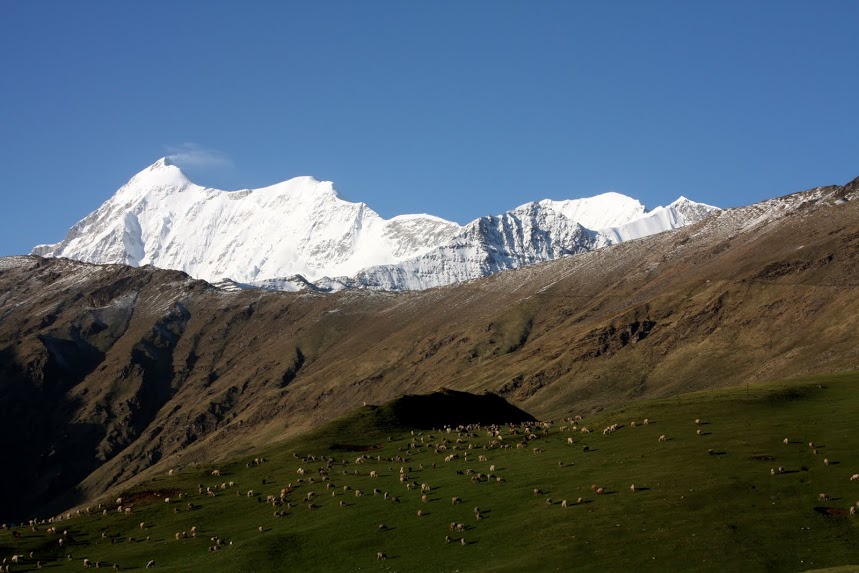 Like all days in mountains this day also started early. By 8 o'clock I was ready with my bag-pack to start my trek. It was a two men's team, my guide Mohan and me. Mohan still had to get his things ready and asked me to go ahead and he would catch up with me later. Also, I was not to go beyond trekker's hut at Pathar Nachuni which was about 5km from Bedni Bugiyal where we were to have out lunch.
The Mountain Hail
Although it had rained last day and the day before, weather was good at the time. I started the climb and after an ascent of 500m I reached the trail to Pathar Nachuni. Now I was to follow the trail till the top of the mountain ridge and then cross over to the other side and continue to my destination. It was a beautiful trail that gives a complete view of the Bedni campsite from the top and a small part of Ali Bugial, another grass land right beside the Bedni. With the clear weather of the day and a lovely mountain view my mood was up and so was my walking speed. I crossed the mountain top ridge in good time and crossed over to the other side. From here I could not see the Bedni campsite anymore and my guide was yet to catch up with me.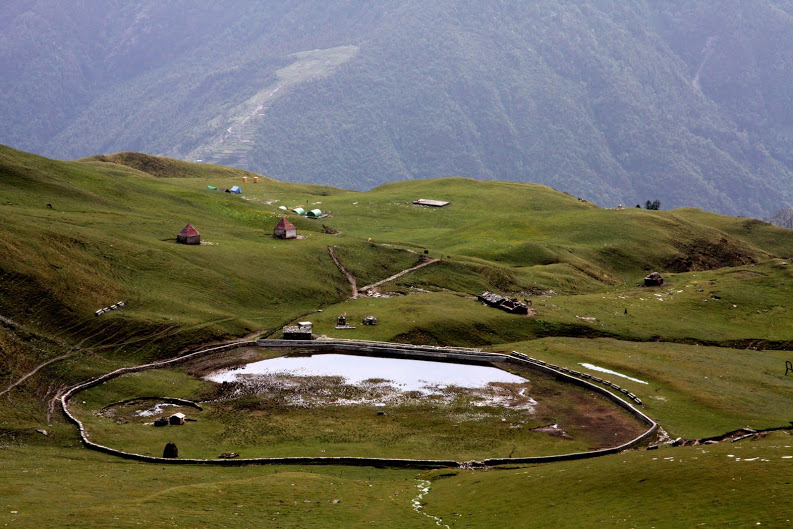 All of sudden, just like the previous two days, the place became full of dark clouds and I could sense the rain coming hard on me any time. And then it started, it was not just any rain, due to the height and cold weather, it started to be a freezing rain and then in no time became a hail storm. There was no cover of a tree or a mountain overhang in the trail and the hail was getting stronger every second. In a minute or two I could see nothing around me and everything had become snowy white, even identifying the trail was getting very difficult.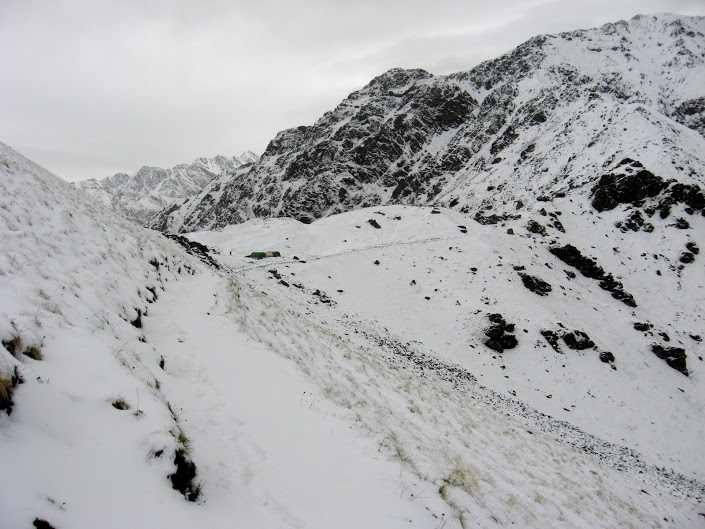 I slowed down my pace and with great difficulty and almost zero visibility continued on the trail. After about an hour into the hail storm, might have been more as I was not sure of time, I found a horse tied right beside two trail-side big-size boulders. I could also hear a very faint sound of human voice. I started looking around but could not see anybody. I was very puzzled, I should have reached the Pathar Nachuni campsite by then, but there was no sign of it; I could hear faint voices but could not see anybody. I thought maybe I should wait right there for my guide Mohan and then continue the trek with him. As I was searching for a place to sit down, maybe a small boulder or so, I saw slight green tin-wall right below the two big boulders where the horse was tied to. With a closer look it became apparent that the two trekker's huts was all covered in snow and looked like two big boulders. I went ahead to search for the door of the first hut and found it to be tightly shut. I knocked on the door a few times and it opened and I could see the whole hut full of people. There was hardly any empty place there for me but somehow I found a small place amongst them and sat down. All the people from nearby villages like Wan and Lohajung had come up here to collect some herbs and then were caught by the hail storm and had taken refuge in the hut. They offered me tea and with the warmth of the tea my frozen body started to relax slowly.
After about half an hour when I was starting to feel that my guide must have lost his way and probably it would be a good idea to arrange for my lunch with those villagers, my guide knocked on the door. He took me to the other hut which was almost empty and settling down he started to cook our lunch.
The hail storm continued for the whole day and well into the next morning. At 9 o'clock in the morning once the hail stopped I tried to go out of the hut and found my way blocked by thick snow. My guide cleared the snow from the door step and I took a pick at the outside. It was all white and I could hardly distinguish between mountains and slopes.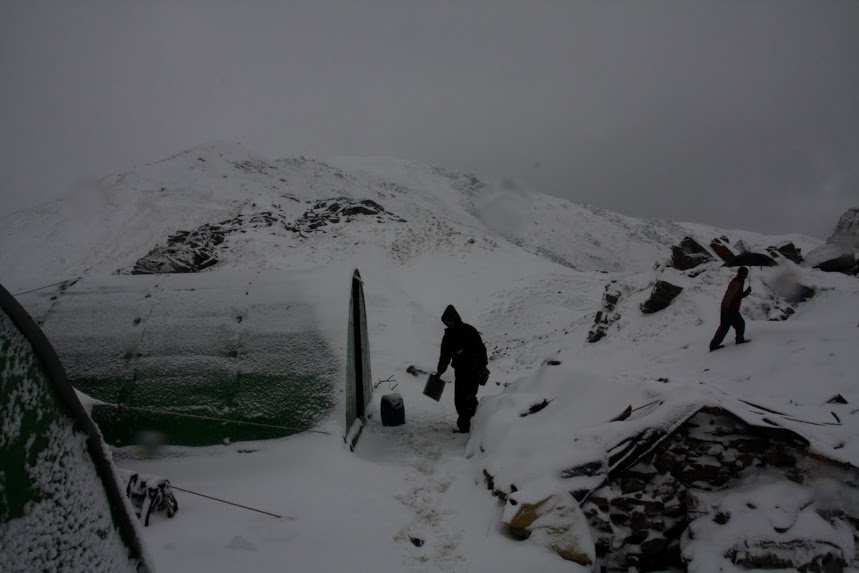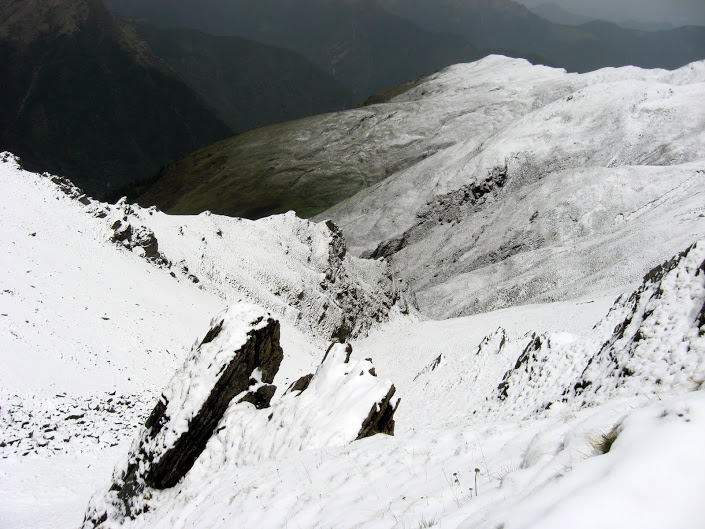 Mohan, my guide said it was not possible to go up into mountains under the weather and we had to trace our way back to Bedni. That time I was not able to complete the trek however the experience of the hail storm would always keep its unique place in my memory for its ferocity. On that day I realized how small we humans are when compared to the brute forces of nature.